Lovin' Mario On His Birthday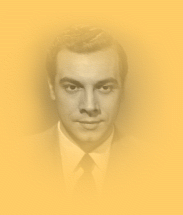 by Muriel Agnello
This evening, I indulged myself in the luxury of listening to my favorite CD by Mario. It should come as no surprise to most of you that it was Mario! Lanza At His Best. This Lanza voice grips my heart and speaks to it in a way I find almost impossible to describe. When I need comfort, I turn to it and I am comforted. When I am happy, I listen to it and become even more uplifted. I am sometimes even motivated into doing my most dreaded chores! It is never background music to me - I am aware of it from beginning to end.
I love those now familiar Neapolitan songs. They have become like old friends to me. Some make me smile. How adorably lovesick he is as he tells of losing sleep over Maria, Mari. "Oi vita, oi vita mia ("Oh life, oh my life") set to a march-like beat in O Surdato 'Namurato is fun, and equally so, is Comme Facette Mammeta! I love his chuckle after, "Nu panaro chino, chino, Tutt' e fravule 'e ciardino!." He is listing all the things that make his lover so sweet.
We hear the wistful homesickness in Santa Lucia Luntana. Oh, then there are those that make you want to weep buckets of tears along with Mario. Voce 'e Notte, Fenesta Che Lucive, "Na Sera 'e Maggio, Tu Ca Nun Chiagne with its exclamatory "Voglio a te!" ("I need you!").The last song, Passione, punctuates the collection perfectly: "Te voglio! Te penzo! Te chiammo! Te veco! Te sento! Te sonno!" ("I want you, think of you, call you, I see you, hear you, dream of you!"). Such total longing and devotion surely cannot be real, but coming from Mario's throat, we believe. Oh, how we believe!!
But the song I want to dwell on today - on Mario's birthday - is one from The Vagabond King collection on this CD. Yes, his singing was not as flawless as on the preceding tracks. In fact, he was quite ill when he recorded these songs, but I don't hear that in this particular song. As I listened to Love Me Tonight, I was suddenly aware of more than the context of the story this came from. I heard Mario asking me (and all others listening) to love him, and remember him. "The hours that we know, measure our dream of delight." Oh, how he soars as he sings this! We are swept up and become eager to go along to wherever he chooses to lead us. We know he will not let us down.
Mario was the consummate Pied Piper. All he had to do was sing in his glorious way, and we were charmed, even hypnotized, by the sound. Oh, of course we know that he did not always sing perfectly, but, to this day, he still has a certain magnetism that fascinates us and makes us stop to devote our attention to him. He sings to each one of us personally. We recognize this unconsciously and are compelled to respond with all our senses.
But - back to the song. He begins with captivating tenderness, "Love me tonight, now, while I long for you. Love that in a day may be dying, that sorrow will never renew". He seamlessly builds up to the climactic line I quoted before, "The hours that we know, measure our dream of delight". We involuntarily take in a deep breath at this point and wait to hear what it is he desires. "Sweetheart, before they go... love me - love me - to-night..." And so he has made his plaintive plea, sincerely and lovingly. His impeccable phrasing contributes to the sublime enjoyment of this song. We are never aware of his breathing and his words glide along smoothly as raindrops falling on glass. How can one resist? Surely I cannot.
And, so, my dear Mario, the hours we know you, are the hours that measure our dreams of delight. It is my hope that others will say the very same thing a hundred years from now! We love you and remember you! Happy Birthday!!!!
1/31/05