The Final Years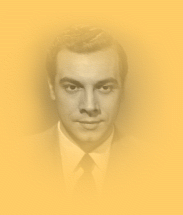 Reviewed by Derek McGovern
An overview of Lanza's 1958-59 recordings
It may seem strange, as a fellow Lanza admirer recently noted, to talk about Mario's "early" and "later" voices - as if the tenor had enjoyed a long life. But the truth is that in Lanza's short career his voice did change a great deal. To the casual listener comparing, say, Lanza's 1952 Musica Proibita with his 1959 rendition of the same song, the difference is astonishing, not only in terms of voice but also in the tenor's dramatically altered approach to the music.
It's been suggested that Mario's erratic lifestyle contributed to a premature darkening in his timbre from 1955 onwards, though this does not explain why recordings as late as November 1957 hark back to the earlier, more lyric voice of The Student Prince period. Lanza's range of vocal colours were on dazzling display during the 1955-57 period, with the dark, almost black, timbre he employs on the 1955 Otello Monologue in strong contrast to the sweetly lyrical tone heard on the 1957 English version of Arrivederci, Roma, or the sheer tenorial brilliance of the 1956 Only A Rose .
The 1958 sessions
On record at least, Mario's Albert Hall recital of January 1958 seems to have marked the definite turning point, with his voice richer and darker from that period onwards. Lanza's voice had by then changed from that of an essentially lirico spinto tenor to almost a dramatic tenor, a fact not lost on the knowledgeable John Coast who greatly praised Mario's "black" timbre and exceptional range, calling him the world's only true "robusto" tenor. Years later, the famous conductor Franco Ferrara would describe the tenor of December 1958 as "vocally extraordinary," with a voice that combined "both steel and warmth," an ideal description to my mind of Mario's later sound. What Lanza thought of the increasingly baritonal quality to his voice is unclear, and I've always wished that a musically endowed reporter could have interviewed him on the subject, and for that matter, his thoughts on singing in general. His comments would have been fascinating, but sadly interviewers seem to have been more interested in discussing scandals and weight.
I would argue that the exceptional fullness of Lanza's 1958 voice, coupled with a heightened sense of phrasing and musicianship, marked the apogee of Mario's vocal career. "Strong as a pillar from top to bottom" with "no traces of thinning out whatsoever" was John Coast's verdict after the tenor's Stuttgart concert, later adding: "He can do anything with his voice." Indeed Mario could, and his final film would offer startling evidence of this versatility.
For the First Time, with a sole exception (the laboured La Donna E' Mobile), contained Lanza's most consistent singing in years. A perfect illustration of the tenor's new-found vocal maturity is Vesti la Giubba, ideally heard on the VHS soundtrack rather than the poorly reproduced CD, and with the volume turned up to a generous level. Heard properly, the impact of this recording is devastating. Possessing by this stage the ideal Canio voice, Mario delivers a frighteningly effective recitative, followed by his best-ever rendition of this heartwrenching aria. Gone are the unnecessary histrionics of old, and instead Lanza injects such throbbing pathos into his voice that this unusually straightforward rendition (by his standards) is all the more affecting because of his simple sincerity. Some may quibble with the fact that - unlike celebrated earlier renditions - he takes a breath before the climactic high A on "infranto," but such critics undervalue Mario's musical instincts. By taking a breath at this point, which he does almost inaudibly, Lanza is able to give maximum emphasis to the most searing moment in the aria, relishing the moment and - to paraphrase Lindsay Perigo - simultaneously reducing the listener to a gibbering wreck.
Vesti la Giubba is only one of several outstanding operatic recordings that Lanza made in August, 1958. Apart from displaying his exceptional versatility in a brief trio (E Voi Ridete) from Mozart's light comic opera Cosi' Fan Tutte, Mario recorded the haunting Nium Mi Tema from Otello. As with the Vesti, Mario again avoids hammy histrionics and delivers a convincing account of Otello's final moments, concluding with a poignant gasp that is unavoidably touching in the knowledge that Lanza himself had only a year to live.
In a much lighter vein, Lanza showed in his recordings for his final movie that he had lost none of his ability to sing a convincing love song, delivering a very pleasant rendition of Come Prima, and some brief but satisfying crooning in O, Mon Amour. O Sole Mio is well sung, albeit in a lower key than Mario's flamboyant 1949 recording. Elsewhere, high notes were also much in evidence in For the First Time, with the rousing Hofbrauhaus Song providing not only the novelty of hearing Mario sing in German, but also proof - if ever it were needed - that his upper register was still gloriously intact only 11 months before his death.
Lanza's final work for 1958 was arguably his greatest album, a beautiful collection of Neapolitan songs entitled Mario! I have already rhapsodized about these recordings in another essay, but so great is Lanza's achievement here that the album merits a fuller analysis.
Mario's thorough immersion in the Neapolitan idiom is immediately apparent. (Indeed, he sounds so authentic that Neapolitans I encountered in Italy refused to accept that he was not one of them!) His sensitive phrasing on almost every song is on a par with The Student Prince. Avoiding the overtly operatic approach that mars so many other performers' renditions of these essentially simple songs, he sings instead as a Neapolitan man of toil, emoting from the heart rather than relying on showy vocal effects. That's not to say there aren't high notes aplenty on this album, but they are tailored to the song rather than merely showcasing a phenomenal vocalist. Here is a brief track-by-track analysis of the album:
Funiculi' Funicula'. Skip this one! The album's sole lapse contains an unfortunate arrangement and off-key singing from Lanza.
Dicitencello Vuie. The favourite recording of Mario's mother, this one has a lot going for it. Mario starts out a little sluggish, but by the second half is in full command of his material.
Maria Mari'. Delightful. The smile in Lanza's honeyed voice adds much to the simple beauty of the song.
Voce 'e Notte. Haunting in the extreme, and apparently Lanza's own favourite recording of himself, for my money this lament is the tenor's finest recording of a Neapolitan song. He perfectly expresses the anguish of a lovesick man alone in the night, singing with stunning depth to his voice, and gorgeous use of mezza voce.
Canta Pe' Me. The sheer vitality in this recording recalls the young Mario, yet is light years removed from Lanza's erratic Coca-Cola performance of seven years earlier. Outstanding in every respect, and oh, what superb breath control Mario displays!
'O Surdato 'Nnammurato. Some light relief in the form of this rousing ditty about a soldier in love. Great stuff.
Come Facette Mammeta. A joy from start to finish, Lanza cannot a resist a chuckle during this doom-buster of a song - and we love him for it.
Santa Lucia Luntana. Opinions are varied (with some preferring the unreleased version that was broadcast on the Coca-Cola Show), but personally I love the way that Lanza vocally "paints" the beauty of the sea and the moon in this Neapolitan's ode to his homeland. Mario at his most reflective and baritonal.
Fenesta Che Lucive. Arguably the saddest Lanza recording of them all, Mario sounds almost appropriately tired here, with his final "croak" at the end (whether intentional or not) adding to the quiet beauty of this moving lament.
Tu Ca Nun Chiagne! Rousing and dramatic with the tenor in brilliant form; a true knock-out.
'Na Sera 'E Maggio. The haunting whisper, "Voglio bene sulo a te," sends a shiver down my spine, underscoring just how much Lanza's understanding of the Neapolitan idiom has developed since his earlier rendition. Masterfully phrased, Lanza's singing here has been aptly described by one admirer as "hypnotic."
Passione. One of Lanza's greatest recordings - and a fitting conclusion to an astonishing album - Mario makes full use of every vocal colour at his disposal, and the ending invariably leaves listeners dumbstruck. Franco Ferrara's comment about "steel and warmth" was never truer than on this recording.
So ended 1958, a remarkable year in the life of an extraordinary artist. In 12 hectic months Lanza had undergone a gruelling recital tour, battled with severe illness, completed a movie, and made some of his finest recordings. By year's end he would have had every reason to look back on the previous 12 months with pride, though I somehow doubt that Mario's frantic lifestyle ever allowed time for such quiet contemplation.
The 1959 sessions
Plagued by illness, Mario would never again reach the heights of his 1958 sessions. Caruso Favorites comes close at times, but overall the 1959 recordings grimly confirm the rapid decline in Lanza's health. And yet when one considers that during this period, Lanza had to contend with a heart attack, phlebitis, pneumonia, and a host of other ailments, the fact that he was able to sing at all seems miraculous. As it turned out, all but one of the five albums recorded that year contains glimpses of greatness, offering further proof that even when seriously ill, Lanza's radiant sense of life could still endure.
The stereo remake of The Student Prince came first. Originally scheduled for recording in the summer of 1958 with Anna Moffo in the role of Kathy, the mouth waters at the prospect of the world's two most compatible singers working together. As it turned out, the album was postponed until the following April, and an infinitely lesser soprano (Norma Giusti) chosen over the sublime Moffo. Not that Ms. Giusti was ever present with Lanza in the recording studio; she, along with all of Mario's subsequent singing partners and chorus members, would be dubbed in at a later stage.
Lanza's singing on this album, while not in the same class as his magnificent soundtrack recording of seven years earlier, is not nearly as bad as I (and probably many others) had damned it on first hearing. The raw, unedited versions of songs such as Drink! Drink! Drink! reveal Lanza to be in reasonable vocal shape. There's no denying that he is tired, but his singing here never degenerates to the level of, say, the 1956 Lanza On Broadway album. Inevitably, though, I find myself more drawn to the two songs not featured on the original recording, where no unflattering comparisons can be made. The best of these is Thoughts Will Come Back To Me, a poignant, mature rendition of this sad farewell that greatly benefits from Mario's baritone-like middle register.
Next up was the Christmas Carols album of May, 1959. Frankly, this recording does not do anything for Mario's reputation, especially when listened alongside Mario's earlier collection of Christmas favourites. Dubbed "dour and depressing" by Lindsay Perigo in one of his reviews, O Christmas Tree is the only song I have ever found myself returning to. Mario had suffered his first heart attack the previous month, and was understandably downbeat at these sessions. Years later, the conductor Paul Baron would insist to me that Mario did not wish to make this recording. Whatever the truth, the album should have been quietly shelved.
On a much happier note, the aforementioned Caruso Favorites album of June features Mario in mostly fine form. As with all the 1959 recordings, however, the reproduction of Lanza's voice (though curiously not the orchestra) on BMG's LP and CDs is far from ideal, and the ever-present distortion mars some of the best moments. Gripes aside, this is an important album in the Lanza canon. Among the highlights are the Neapolitan song Senza Nisciuno; a tasteful Vaghissima Sembianza, replete with two beautiful High As; the supremely daunting Serenata; and three exquisite Tosti songs: L'Alba Separa Dalla Luce L'Ombra, Pour Un Baiser and Ideale.
L'Alba Separa Dalla Luce L'Ombra deserves special mention. Mario is appropriately operatic on this miniature masterpiece, and although his voice sounds a little heavy at times, the impact of his performance is deeply moving. When he gets to the line, "Chiudimi, O notte, nel tuo sen materno," (Envelop me, O night, in your maternal breast), we know that we are in the presence of greatness. My only regret is that the sound quality mars the climactic moment that comes shortly afterwards on the middle syllable of the word "eterno." I used to think that Mario was in trouble on this note, but a closer listening on headphones reveals that the fault lies with the actual recording. If one can overlook the distortion and "boxed-in" sound quality, L'Alba Separa emerges as an impressive piece of singing, and a wonderful example of Lanza's artistic maturity.
Among the few lesser moments, Mario runs out of steam in the second half of La Mia Canzone, and is subjected to an overly boisterous arrangement on Santa Lucia. (The latter sounds more like a march than a lilting ode to the Bay of Naples!) At times Lanza does sound tired, and as one perceptive reviewer has noted, we miss the characteristic smile of Lanza's earlier voice, but there are many fine moments along the way to compensate. Ironically, critics and habitual Lanza-knockers are much more likely to praise this album for the very reason that he is so subdued. (Evidently, a restrained Lanza - with his customary high spirits and vocal brilliance hampered by illness - is much more palatable to these stuffed shirts!)
After Caruso Favorites, Mario returned to operetta for his two final albums, The Vagabond King and The Desert Song. Recorded in July and August, respectively, the highlights of both albums are again heard to far better effect on the "raw versions" available from Damon Lanza Productions. I've often wished that RCA had opted for a "best of" collection on a single disc from these two albums, rather than posthumously exposing the sad reality that Lanza was clearly exhausted on his final projects. The voice is still intact - one only needs to hear the brilliant High As in Love Me Tonight, or the terrifying tessitura that Mario conquers in One Flower Grows Alone In Your Garden for proof of that. But there is an ever-present sense that here is a man battling against all odds to deliver the vocal goods. That he often succeeds is testament to his superhuman talent.
Each album contains at least one song that seems to encapsulate the two essential elements of Lanza - the romantic longing in the underrated One Alone, and the glorious lust for life in the rousing Drinking Song from The Vagabond King. "For if I die, as I hope to die/ Then I'll never be sober again, not I!" are the prophetic words that Mario sings in the latter, as he gleefully anticipates the dual delights of a buxom wench and an ocean of wine. I'm greatly comforted by both recordings. For amid those sad final sessions of 1959, the Drinking Song and One Alone remind me of one overwhelming truth: that Lanza - the joyous celebrant of life, and defiant foe of all that is wrong with this world - remained essentially the same vibrant, romantic Mario of yore right up until the very end.
"Mario enjoyed living life to the hilt," it has been observed. And thank God for us all that he did. Lanza: the ultimate dispeller of doom and despair.