The Magic of Mario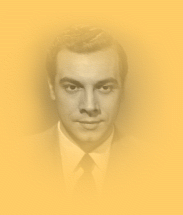 by Muriel Agnello
"If there's a song in your heart, willing and eager to start, then you'll belong where that song means the most, and can make you the Toast of New Orleans."
The sound of the voice singing these words made me bolt upright in my chair! I had not heard that voice in many years, but a flood of memories came back to me in a flash. I was once again a nine-year-old in a movie theater. On the large screen was the most handsome man I had ever seen singing to me! And, oh, what a voice! It came out and filled the whole space around me. I was transfixed by the sight and sound and remained that way until the lights came on, breaking the spell.
However, it is obvious that spell has never been broken. I think the unexpected shock of instant recognition gave me cause to wonder what it is about this voice that makes it so different from any other to me. Of course, the owner of the voice was Mario Lanza!
>From that moment on, I felt compelled to gather all the recorded music I could find by him. Luckily much of his music was now available on CD and I bought everything I could find. Soon it became evident that I had lost my initial one-sided taste for songs like Be My Love and The Loveliest Night of the Year. I discovered Mario's talent was multilateral. His masterful renditions encompassed many distinct genres of music. So excited was I by this realization that I was determined to examine as many examples as I could in the categories of opera, Italian songs, love songs, inspirational songs, and operetta.
To merely state that his was an incredible voice with the ability to induce total involvement of the listener does not do him justice. Therefore, I would like to take one song/aria from each of the genres and interpret my feelings. Perhaps the piece that moves me the most is Mario's rendition of the Otello Monologue, so I shall begin in the operatic area.
If I were granted only four minutes of film on Mario to keep forever, I would choose his Otello Monologue from the film Serenade. To me it is the most perfect representation of what Mario would have been like on the opera stage. It is a precious gift from him to us. In it he conveys what total commitment he was capable of having to operatic material. To say he had an affinity for the role of Otello would be an understatement. His voice had matured enough by this time to match his understanding of the Moor.
At this point in the opera, Otello's mind had been sufficiently poisoned by the malicious Iago that he was suffering pure torment. We see the deterioration of a once powerful ruler as he is brought down to a wretched mass of humanity. Mario's performance shows this with heart wrenching accuracy. He incorporates hand gestures, facial expressions, and body language along with his incredible voice in such unison that we don't even notice that he is not in costume!! His perfect diction and flawless lip-synching add to the impeccable picture of a natural operatic performer. Again I have to use the word 'perfection'!
At the beginning of the aria, Verdi's swirling music sets the scene for the mental anguish we are about to experience. What we see as Mario begins, "Dio, mi potevi scagliar tutti i mali, della miseria - della vergogna…" (God! Had you flung onto me all the torments of misery - of shame…), is a grief-stricken man expressing the extreme pain and suffering he is going through. He tells of how he could accept having all his worldly trophies taken from him if it was the will of Heaven. However, his very reason for living, (Desdemona), has seemingly transferred her affections to Cassio and he has no hope of any future happiness. The light has been taken out of his life and he is desolate. He now has no option left but to make her confess her crime and then take her life! Mario's depiction of Otello's rising rage is truly a sight to behold. His eyes flash, he assumes a menacing stance facing directly into the camera, his hands gesture as though he is wrapping them around her neck and he cries out, "Confession! Confession!" We gasp as his terror goes straight into our hearts! At Iago's announcement that Cassio has arrived, he then exclaims, "La? Cielo! O gioia!!" Mario's face as he looks up to the sky is priceless and this image is one we shall always remember. He has given his all….
Next we move on to the genre of Italian songs. Love songs were a standard part of Mario's repertoire and one of the most dramatic ones was the Neapolitan song Passione. It is the story of a lovesick man whose lover has been gone for a year and he sings out his grief and yearning to be with her again. Mario's voice is as haunting as the music in this rendition. With his exquisite capacity for shading, Mario makes this piece an absolutely beautiful work of art. One is struck by his total sense of heartrending hopelessness as he sings, "E cammino, cammino.., ma nun saccioaddo vaco…, I' sto' semp' mbriaco e nun bevo mai vino…" (And I walk and walk, but don't know where I'm going. I'm always drunk though I don't drink wine.") Truly brilliant is Mario's slide into the last verse beginning with the softest landing on, "Te voglio… te penzo… te chiammo… te veco… te sento… te sonno". (I want you, think of you, call you, I see you, hear you, dream of you…") In the last line line, "nun ponno cchiu pace tru va!" we follow an electrifying ascension toward that last spectacular note that sends us into a state of pure ecstasy! Mario has no equal when it comes to producing such a stunning result!! The intelligence he displayed in this recording makes us more aware of the true loss that was to come shortly.
Aaah, Amour!! After listening to love sung in the Neapolitan verismo form, let's make a transition to love sung just as convincingly by Mario with a contemporary theme. The Moon Was Yellow, on first hearing, sounds like a happy, carefree bit of fluff. It certainly does not require a crooning treatment as in the song The Night Is Young and You're So Beautiful, but wait! Isn't love an adventure? One is never sure where that adventure will take you and this song captures that excitement perfectly!
Mario glides through Moon… as smoothly as glass, speeding up and slowing down as on the proverbial roller coaster ride. He effortlessly carries us with him and leaves us quite breathless at times. We know we are in for a treat with, "That vocal inspiration gave me the inclination to give my heart awaaay!". In the second verse he begins slowly, "Here we are…. Is our Ro'mance to continue?" and quickens with, "Will it be my luck to win you?" (A pleading question - listen to 'be my luck'.) " May I look that far?" - (Again slowing down.) "Ohhh, mmy love (get ready for the descent!) is mellow and my hopes are strong, around that Cupid fellow, behold the moon is yellow, and the night is young!!" At the end we come away with the most exhilarated feeling - we know we've experienced love in its most rousing form! Trust Mario to deliver us safely from our joyride with him!
Mario's voice has inspired me on many occasions. It only follows that inspirational songs are another important genre for his talent to shine. It would be easy to choose the Ave Maria or The Lord's Prayer (especially with organ in Because You're Mine), but I find I am very uplifted by his I'll Walk With God. How gratifying for writers to hear an artist do justice to their music and lyrics as is the case with Brodszky & Webster who wrote this piece along with Beloved and Summertime in Heidelberg for the film The Student Prince. Mario's voice was practically flawless during the recording sessions for this film. I'll Walk… is as straightforward a statement of faith as one can imagine. What one looks for in times of need is assurance that he is not alone and will find strength to get through whatever his difficulty may be. Mario's delivery in I'll Walk With God has a tremendous effect made even more impressive by beautiful phrasing along with superb breath control.
He starts out in a rather subdued way and becomes very hushed at the lyrics, "This is my prayer, my humble plea, may the Lord be ever with me". He accents 'fear' in "There is no fear when I'm near to Him." His conviction becomes stronger from, "I'll pray to Him, each day to Him, and He'll hear the words that I say." The crowning touch comes at the end, however, as Mario fearlessly approaches, "And I'll never walk alone, while I walk with God". Those last few words raise the hair on the back of my neck, and make me want to hold my breath until he has finished. No matter what a person's belief, the sensations stirred by Mario's pure tones cannot be denied here. I suppose I would describe it as being transported into a state of euphoria! Bella, Mario!
If operettas bridge the gap between dramatic operas and lighthearted musicals, then of course it follows that Mario's place would be secure in that world. And so it is. I've just written about how easily Mario fit into his recorded role of Prince Karl in The Student Prince and I'd like to discuss a song from another operetta, Very Warm For May. All The Things You Are was written by Jerome Kern and Oscar Hammerstein II, and it seems to be the only memorable piece of music to survive that opus. And - what a lovely survivor it is!! Mario recorded it on four different occasions as far as I can ascertain. These include for the CC Shows, Cavalcade of Show Tunes LP, a segment for the soundtrack of Seven Hills of Rome and again for the soundtrack of Because You're Mine. It was never heard in that film for reasons unknown. I wonder if it was filmed and cut or only recorded and never filmed. What a shame! It is my favorite one of all.
There is a CD proposal sitting on a bookshelf in my home titled: All The Things You Are: Mario Lanza Sings Love Songs And Operetta. This very song is one I hope to hear released onto CD again after its brief appearance on the MGM Rhino CD: Be My Love, Mario Lanza's Greatest Performances at M-G-M. For those who have never heard it, I'll try to describe it for you.
Mario begins the song with a soft humming/cooing sound that immediately lulls you into a receptive mood. With the sweetest of voices he croons, "You are the promised kiss of springtime," and from that moment on you are hooked. All throughout the song he maintains a very intimate atmosphere that is greatly aided by a most pleasing vibrato. There is a full orchestra, but one almost doesn't notice it because of the blending of the fabulous voice with tender lyrics. This song was definitely arranged for a specific scene in the film that I'm sure was meant to be highly romantic.
Imagine a quietly seductive voice pouring forth, "You are the angel glow that lights a star, the dearest things I know are what you are." Mario treats the word glow with such tenderness that your heart momentarily pauses! Stay with me as you will be further entranced in the purely liquid ending of, "Some day….I'll know that moment divine, when all the things you are…….are mine". I can say no more…………
Five different genres of music, and we hear five excellent performances by Mario. To say he fully grasped practically the whole spectrum of music is not an understatement. No matter what one's taste in music is, Mario leaves a perfectly wonderful recording to enjoy. I can think of no other artist who even comes close to achieving what Mario did in his short lifetime. He reached out and took life by the horns musically speaking. He gave us everything he had. His versatility was phenomenal and we are left powerless to fully express our appreciation. But - as long as we share our love for him, his legacy will go on…. Cheers to the magical music of Mario!!!